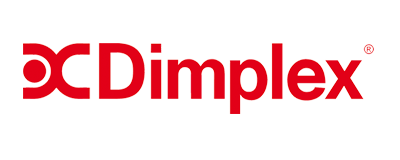 The modern electric fireplace is one of the most exciting innovations in recent decades. Making its debut in 1995, the patented electric flame technology has made it possible for families living in all types of homes to create the calming, relaxing atmosphere that only a fireplace can deliver. The Glen Dimplex Americas company has continued to explore innovations in electric flame technology that has so far resulted in 30 patents with more pending.
A Dimplex Electric Fireplace for Every Home
Whether you live in a McMansion or small apartment, Dimplex has a fireplace that will suit your environment. Media consoles allow you to watch your favorite shows while enjoying the relaxing atmosphere that a fireplace provides. Dimplex has over 40 styles of media consoles from which you can choose.
If you love the idea of a fireplace with a mantle, Dimplex has a wide selection. Your new fireplace with mantle can be a focal point in your room or an accent piece. Either way, your fireplace will make the room something special.
Your modern home may look even more classy with a wall-mounted fireplace. This type of fireplace does not take up additional space as it graces your home with ambience and elegance. Dimplex offers a selection of sizes, colors and installation methods. Choose the one that works best for your home.
Make good use of your old masonry fireplace with a firebox or electric fireplace insert. This is an easy way to bring back the fun of having a fireplace without all the upkeep associated with traditional fireplaces.
Electric stoves are great when you want to add heat to your space as well as a new look. Dimplex offers these stoves in a variety of styles and colors to match your décor.
Ask about the wide selection of Dimplex fireplaces and find the one that creates the ambience and elegance you want for your home.