Free-Standing Wood Burning Stove
Find the elegance and luxury your home deserves in our free-standing wood-burning stoves from the best fireplace brands in the market. We offer Napoleon, Ventis, and Osburn log-burning hearth stoves, and we deliver them efficiently and seamlessly to your home. A free-standing wood-burning stove is ideal for small spaces thanks to its slender design, and it provides a comfortable, cozy heat. Browse from our variety of wood-burning stoves and find the style that best matches your preference. Choose a traditional model with a log storage at the bottom or opt for a more modern look with a steel base platform. Our wood-burning stoves adhere to EPA standards and are efficient for long hours of burning and warm comfort.
Napoleon Wood-Burning Stoves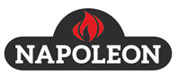 Napoleon is a trusted name in wood-burning stoves. Napoleon's wood stoves have been developed after years of research. These wood stoves consistently surpass EPA standards and provide you with an extremely efficient wood-burning appliance.


Ventis Wood-Burning Stoves
Sierra Flame Wood-Burning Stoves
MF Fire Wood-Burning Stoves
Osburn Wood-Burning Stoves