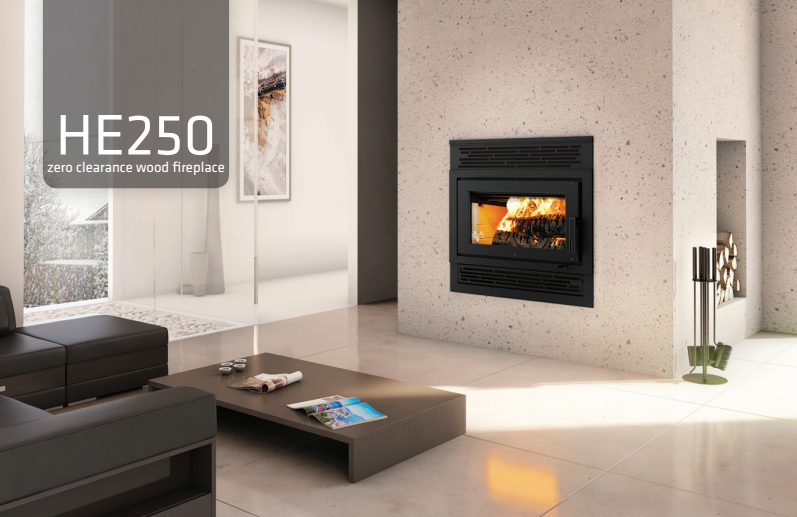 Sale Price $2,879
Ventis HE250 Wood Fireplace
Free Shipping
*********** OUT OF STOCK ***********

Required Options for the Ventis HE250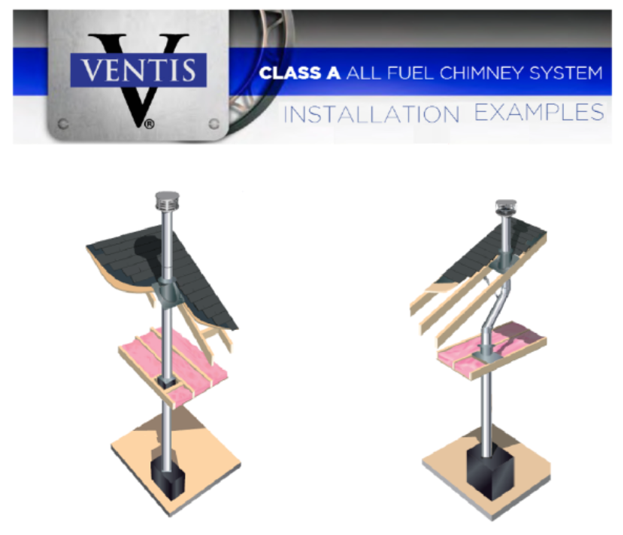 Available Accessories for the Ventis HE250
1) Door overlay in brushed nickel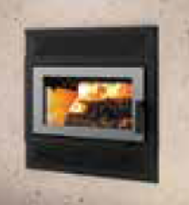 3) Outside Air Kit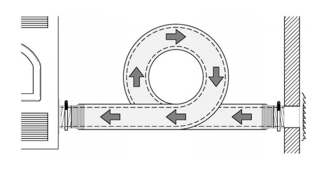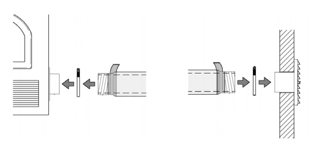 4)  Forced Air Distribution Kit – This system allows you to manage the heat distribution automatically. Using a wall thermostat, you can select the temperature you want to maintain in the room where the fireplace is located. Once the thermostat is satisfied, the excess heat is redirected to another room up to 50 feet (15 m) away from the fireplace using a 350 CFM blower. That way, you can enjoy a nice fire in your living room without the discomfort of excess heat generated by your Ventis fireplace.The system can also be used to supplement heat in a room remote from the fireplace. For this type of application, the thermostat needs to be positioned in the desired room and programmed with the temperature to be maintained. The system, now in "heat mode", will activate the blower as long as the temperature in the remote room is not achieved and that the fireplace has enough heat to distribute.
5) Hot Air Gravity Distribution Kit – Ventis offers you another way to distribute excess heat into your home with the help of a Hot Air Gravity Distribution Kit. The Hot Air Gravity Distribution Kit allows you to block the upper fireplace louver in order to bring hot air into the same room as the fireplace, in adjacent rooms, or upstairs at a maximum distance of 10′(3 m). The minimum height of the hot air duct must be 68″ (1.7 m) measured from the floor to the top of the hot air register.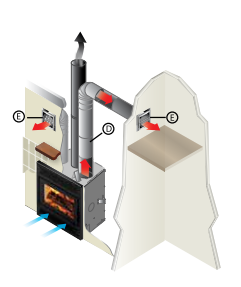 B) Traditional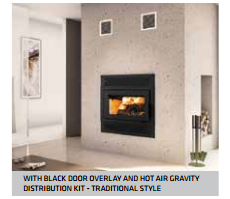 Ventis HE250 Product Information
Contemporary design… straight lines, clean shapes, neutral colors. Our HE250 brings a modern touch and blends functionality and comfort perfectly. Obtain the same key features as our HE200, but with extra firebox volume and a larger glass viewing area. With an efficiency topping 77% and emission below 4.4 g/h, there is not much more one can ask from a zero-clearance wood fireplace. The HE250 allows you to insert your personal touch with the option of a distinctive brushed nickel door overlay. Make your living room cozy and inviting for those cold winter nights.
FEATURES
Recommended heating area < 500 – 2,000 sq. ft.
Firebox volume 2.5 cu. ft.
Maximum log length 21″
Molded refractory bricks Included
Ventis anchor plate Included
Blower Included
EPA – certified
OPTIONS
Forced air kit
Hot air gravity kit – traditional style
Hot air gravity kit – modern style
FireplacePro – Your Fireplace Store!