Ventis HE350 Wood Fireplace
Luxuriously heat even the largest room with the HE350 wood burning fireplace by Ventis. This high efficiency, zero clearance fireplace features a large viewing area through double cast iron doors. The arched traditional faceplate adds a touch of elegance,

enhancing the visual impact of this fireplace. Holding up to a 25″ log and capable of 95,000 BTUs with seasoned cord wood you can easily heat 1,000 to 2,800 square feet. With only 1.6 grams per hour emissions, the HE350 meets stringent EPA guidelines.
Model #VB00005
C-Cast baffles
69.7 % efficient
EPA rating: 1.6 g/h
95,000 BTU maximum with seasoned cord wood
Heats 1,000 – 2,800 sq. ft.
11-hour burn time
High-efficiency EPA certified appliance
Automatic or manual adjustment of combustion air supply
Glass air-wash system
Moulded refractory bricks
Stainless-steel secondary-air system improves gas combustion
176 CFM blower with thermo switch and rheostat
25″ maximum log length
Non-catalytic combustion
8″ flue diameter
Cast iron double door
Ceramic glass with 29-3/4″ wide x 13-1/2″ high viewing area
Unit dimensions: 45-1/4″ wide x 43-3/8″ high x 31-3/4″ deep
Required for the Ventis HE350
Available Accessories for the Ventis HE350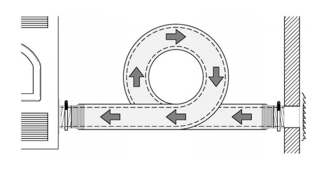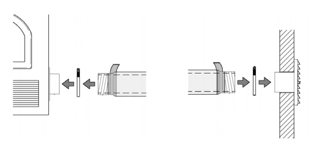 Forced Air Distribution Kit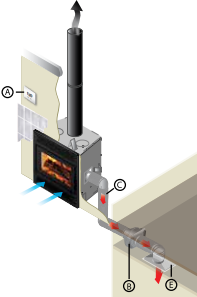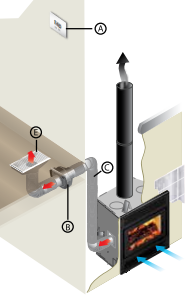 Manage the heat distribution automatically using a wall thermostat. Select the temperature you want to maintain in the room where the fireplace is located. Once the thermostat is satisfied, the excess heat is redirected to another room up to 50 feet (15 m) away from the fireplace using a 350 CFM blower. This allows you to enjoy the fire in your living room without the discomfort of excess heat generated by your Ventis fireplace. The system can also be used to supplement heat in a room remote from the fireplace. For this type of application, the thermostat needs to be positioned in the desired room and programmed with the temperature to be maintained. The system, now in "heat mode", will activate the blower as long as the temperature in the remote room is not achieved and as long as the fireplace has enough heat to distribute.