Napoleon S25 Wood Stove – Wood Fire Heat Stoves
Larger than the S20, the S25 wood stove is a medium sized stove capable of holding 23″ logs and producing up to 70,000 BTUs. EPA 2020 certification coupled with a clean modern design make the Napoleon S25 wood burning stove a great option for wood heating. The S25 features an easy glide ash drawer with a removable ash pan, ash lip, and a heavy duty firebox top.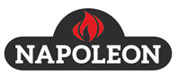 The fully refractory lined 2.5 cubic foot firebox provides efficient 16-hour burn times.
Up to 70,000 BTUs
Heats up to 2,100 sq. ft.
2.5 cu. ft. firebox
16-hour burn time
23″ ideal log length side-to-side loading
17″ ideal log length front-to-back loading
Heavy duty 5/16″ firebox top
Ceramic fiber baffles
Hidden hinges and extra large glass viewing area
Cast door, cast ash lip, and cast pedestal base
Precision "Easy Glide" ash drawer
Optional ash disposal kit with removable lidded ash pan and ash plug
Top and rear heat shield
Optional blower kit
Weighted average emissions rate 1.3 g/hr
Weighted average overall efficiency 76%
Tested and certified to EPA 2020 cord wood requirements