Napoleon Ascent Multi-view – BHD4
Enjoy the fire from multiple rooms at one time with a Napoleon Ascent Multi-View BHD4. This high performance direct vent gas fireplace is available as a two-sided See-Thru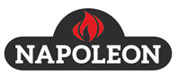 or a three-sided Peninsula. Customize your fireplace with your choice of burner options including: a log burner, a linear glass burner or a designer fire cradle. The Ascent™ Multi-View Gas Fireplace offer up to 30,000 BTU's, an incredible 2,023 sq. in. viewing area, multiple firebox configurations and electronic ignition with battery back-up. Whether the see through gas fireplace or the three sided gas fireplace, the views are spectacular.
Available in a See-Thru (two-sided) or Peninsula (three-sided) version with a log burner (BHD4ST/BHD4P), a linear topaz glass burner (BHD4STG/BHD4PG)
Designer fire cradle complete with exclusive topaz glass (BHD4STFC/BHD4PFC) is temporarily unavailable
2,023 sq. in. viewing area for the See Thru model and 2,484 sq. in. viewing area for the Peninsula model
Designer Fire Art Metal Coil and Nickel Stix available for the linear topaz glass burner version
Optional media enhancement kits available: glass embers, glass beads, or mineral rocks
Optional remote controls available
Optional Newport™ brick panels or MIRRO-FLAME™ Porcelain Reflective Radiant Panels available
Safety barrier included
Back-up control system ensures reliable use, even during power failures
Available in natural gas (propane conversion kit available)

Photos and Video of the Ascent Multi-View Direct Vent Gas Fireplace
2) Required Burner – Choose one

3) Required Venting – Questions about venting? We can help! 866-845-7845
For over two decades, Wolf Steel has had the perfect answer to simple and complex venting situations. Wolf Steel's Freedom Flex Venting is a cost effective solution that is versatile and light weight, simplifying your installation. Compared with traditional venting, Flex Venting can save you up to 75% in time, labor, and parts costs. Manufactured with two layers of rolled aluminum, Flex Venting pipes pass each and every certification test, exceeding industry standards.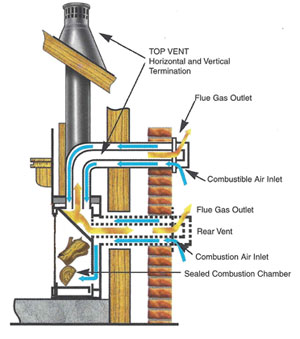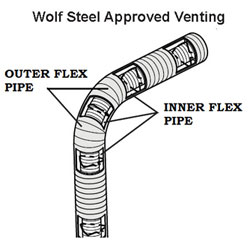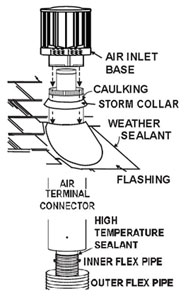 Product Manual and Specifications for the Napoleon Ascent Multi-View BHD4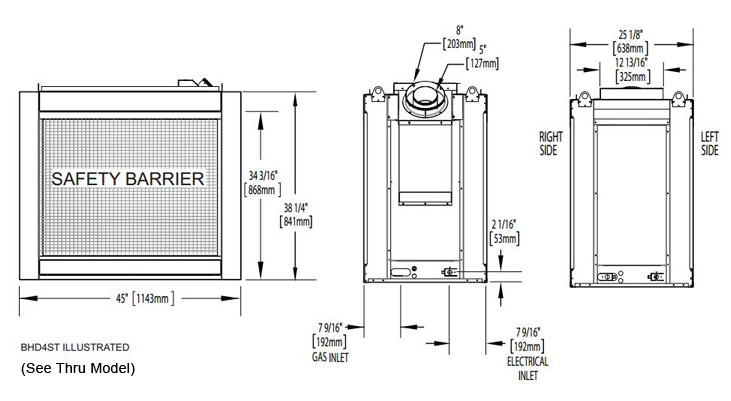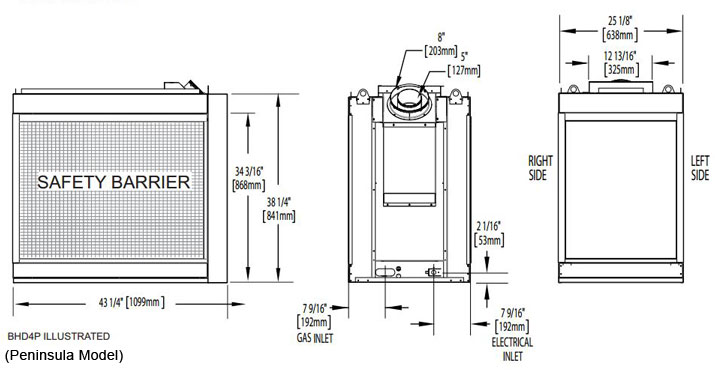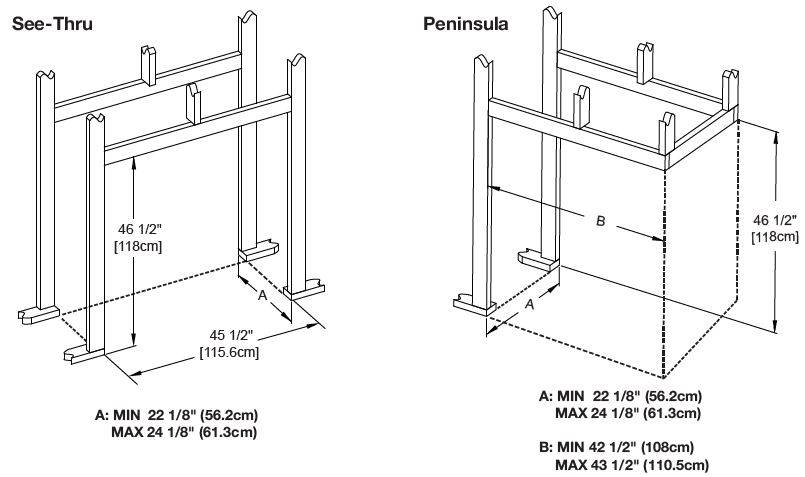 Framing Specifications
 Width
 Height
 Depth
 Min. Enclosure
Height
 Non-Combustible
Finishing
See Thru
  45-1/2″
  46-1/2″
  23-3/8″"
50″
  11-3/4″ above & 6″ side of facing
Peninsula
  42-1/2″
  46-1/2″
  23-3/8″
 50″
  11-3/4″ above & 6″ side of facing
The Ascent BD4 replaces the BGD40, BGD40 Multi View, BGD40 Peninsula, BGD40 See Thru, BGD40G, BGD40G, HD4, HD4 High Definition, HD4 Multi View, HD4 See Thru HD4P, HD4P Multi View, HD4P Peninsula, HD4PFC, HD4PFC Multi View, HD4PFC Peninsula, HD4PG, HD4PG Multi View, HD4PG Peninsula, HD4ST HD4ST Multi View, HD4ST See thru, HD4STFC, HD4STFC Multi View, HD4STFC See thru, HD4STG, HD4STG Multi View, HD4STG See thru, High Definition HD4, Napoleon BGD40, Napoleon BGD40 Multi View, Napoleon BGD40 Peninsula, Napoleon BGD40 See Thru, Napoleon BGD40G, Napoleon Fire Cradle, Napoleon HD4, Napoleon HD4 High Definition, Napoleon HD4 Multi View, Napoleon HD4 See thru, Napoleon HD4P Napoleon HD4P Multi View, Napoleon HD4P Peninsula, Napoleon HD4PFC, Napoleon HD4PFC Multi View, Napoleon HD4PFC Peninsula, Napoleon HD4PG, Napoleon HD4PG Multi View, Napoleon HD4PG Peninsula, Napoleon HD4ST, Napoleon HD4ST Multi View Napoleon HD4ST See thru, Napoleon HD4STFC, Napoleon HD4STFC Multi View, Napoleon HD4STFC See thru, Napoleon HD4STG, Napoleon HD4STG Multi View, Napoleon HD4STG See thru, Napoleon High Definition 4, Napoleon Multi View, Napoleon Peninsula, and Napoleon See thru.