Napoleon Haliburton – GDS28 Direct Vent Gas Stove
Good things do come in small packages! If you have limited space but still desire the beauty and convenience of a gas stove… the Napoleon Haliburton™Gas Stove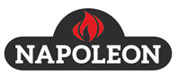 is the answer! Offering a variable heat range up to as much as 30,000 BTU's, this stove may be compact in stature, but not in power!
Required Options
Questions about required options?  We can help! 866-845-7845
1) Required Door w/Safety Screen (choose one)
2) Required Venting  – Questions about venting?  We can help! 866-845-7845
Please call us and we can help you determine the appropriate venting for your situation.
Product Information
No electricity is required to light or operate – ensures reliable use even during power failures
Advanced burner system produces the most realistic YELLOW DANCING FLAME® in the industry
Flame/heat adjustment for maximum comfort and efficiency
Compact, easily accessible and user-friendly controls
Safety Screen Included
Equipped with 100% SAFE GUARD™ gas control system for your peace of mind
Heat radiating, high-temperature ceramic bay glass door available in satin chrome plated or painted metallic black finishes (ordered separately)
Ease of operation is added with an optional, convenient wall thermostat or an on/off auto temperature remote control
Built-in blower extracts maximum heat from the extra large heat exchanger.