Napoleon Oakville X4 – GDIX4N-1 Gas Fireplace Insert
The largest in the Oakville™ Series the impressive Oakville™ X4 Gas Fireplace Insert has an exclusive dual burner split flow system that results in a firebox filled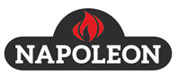 with a stunning triple flame pattern, and allows the option of independently operating the front and rear burners from 16,000 to 40,000 BTU's. A superior heat circulating blower comes included with this model and when paired with the Oakville's air flow improvement directional baffles generates maximum blower efficiency. A stunning triple flame and massive 518 sq. in. viewing area makes this fireplace insert a perfect choice for larger rooms where a passion for luxury is evident.
Up to 40,000 BTU's
Stunning Triple Flame
Clean Face Design and Flush Finish Accessories
24 9/16″H X 34 1/8″W X 18 3/4″D
Exclusive dual burner split flow system allows for full modulation of both front and rear burners from 16,000 up to 40,000 BTU's
Full view design with massive 518 sq. in. viewing area
SIT Proflame II Electronic Ignition
Exclusive NIGHT LIGHT™ included
Premium clean face safety barrier maximizes viewing area
Directional baffles increase airflow for maximum blower efficiency
Clean contemporary faceplates and backerplates available
A wide range of media kits, brick panels and porcelain panels available
Superior heat circulating blower includedOptional Faceplates 2.5″ And 5″ Widths In 3-Sided Or 4-Sided Configurations
Faceplates available in black, charcoal (dark grey), gun metal (medium grey), or copper
eFIRE enabled with app remote control included
Napoleon Oakville GDIX4 Photos & Video
See a Napoleon Oakville X4 – GDIX4N-1 Gas Fireplace Insert Insert you like?  Call us at 866-845-7845!
Required Options for the Oakville X4
 1) Required Decorative Panels (choose one)

 2) Required Log Set (choose one)
3) Venting Kit & Terminal