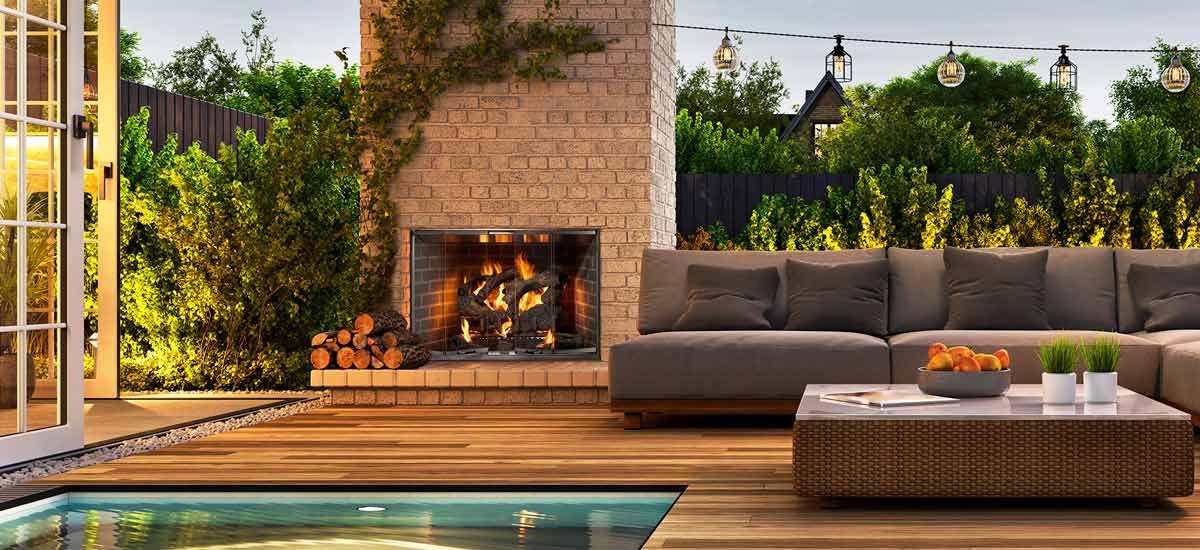 Cottagewood 42: suggested list price starting at $2,999*
Free shipping in the contiguous 48 states
Call us or you'll pay too much!
Outdoor Lifestyles Cottagewood 42 Wood Burning Fireplace by Majestic
Tranquil and serene times around a natural wood-burning fire inspire relaxing and rejuvenating. Or, if entertaining is your forte, the Cottagewood outdoor fireplace prefectly compliments gatherings of all sizes. Create a gorgeous setting by installing this stainless steel weather resistant fireplace with or without a frame of metal showing from your choice of finishing materials like stone, brick, or tile. Hidden when open, the stainless steel screens do not obstruct the view. When closed the screens stop sparks from flying out. Enhance your fireplace further with optional stainless steel framed glass doors.
Large opening: 42″ wide x 28-1/2″ tall
Tuckaway stainless steel screens arrest sparks and hide when not in use
Optional glass doors framed with stainless steel keep debris out
Easy damper controls airflow and smoke on enclosed patios
Safely installs on a wood or composite deck with a 20" protective hearth apron
Mineral Gray traditional or herringbone brick interior panels
Black painted log grate for more efficient burning
Rust resistant stainless steel construction
Locate next to an exterior wall or in a freestanding structure
Drain pan optional
Knockout for optional gas log installation
Cottagewood 42 Outdoor Fireplace Features and Options
Required Options for the Cottagewood 42
Must choose interior panels:
Additional Features and Accessories for the Cottagewood Outdoor Fireplace
Cottagewood 42 Outdoor Wood Burning Fireplace Specifications
Cottagewood 42 – ODCTGWD-42 ODCTGWD-42H
| | |
| --- | --- |
| Appliance Width: | 50-1/2″ |
| Appliance Height: | 59-1/4″ |
| Appliance Depth1: | 27-1/2″ |
| Appliance Rear Width: | 34-1/2″ |
| Framing Width: | 51-1/2″ |
| Framing Height: | 59-3/4″ |
| Framing Depth: | 28-1/2″ |
| Framing Front Width: | 51-1/2″ |
| Framing Back Width: | 51-1/2″ |
| Viewing Area: | 42″ w x 28-1/2″ h |
1 Appliance Depth includes entire unit including depth of firebox and extension onto hearth.
Heat output will vary depending on the type of fuel used. The flame and ember appearance may vary based on the type of fuel burned and the venting configuration used. Actual product appearance, including flame may differ from image shown. Refer to the owner's manual for complete clearance requirements and specifications. Product specifications and pricing subject to change without notice. For testing and listing information please refer to the owner's/installation manual.
†For wood-burning appliances: Actual burn times will vary based on how the appliance is operated, load size, moisture content and type of wood used, and installation.
Cottagewood 42 Outdoor Wood Burning Fireplace Manual and Literature