Napoleon Knightsbridge – GDS60 Direct Vent
The Napoleon Knightsbridge™ Gas Stove has always been successful and in popular demand for its solid performance and impressive heating efficiencies. The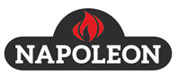 Knightsbridge™ comes standard with Napoleon's PHAZER® log set, glowing embers, anti-condensation switch (controls pilot usage for cold climate installations) and electronic ignition with battery back-up. With its larger viewing area and new elegant fine detailing and sleek, more sophisticated outer casting design, the Knightsbridge™ now offers much more than it's predecessor.
Required Options
1) Required Venting  – Questions about venting?  We can help! 866-845-7845
Please call us and we can help you determine the appropriate venting for your situation.
Product Information
Advanced burner system produces the most realistic YELLOW DANCING FLAMES® in the industry
Larger viewing area with its new updated design
Safety Screen Included
ACS (Anti-Condensation Switch) controls pilot usage for cold climate installations
B-Vent Adapter Kits allow installation into existing chimneys
Flame/heat adjustment for maximum comfort and efficiency
Compact, easily accessible and user-friendly controls
Equipped with 100% SAFE GUARD™ gas control system for your peace of mind