Napoleon Castlemore – GDS26 Direct Vent Gas Stove
The Napoleon Castlemore™ Gas Stove (cast iron) adds more than just a reliable heating source to a home. With its sleek curves and tall, slender stature, it becomes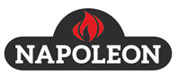 the ultimate focal point for any room. The classic European design will never go out of style and the heating power will provide a lifetime of enjoyable comfort.
Required Options for the GDS26 Castlemore
Required Venting  – Questions about venting?  We can help! 866-845-7845
Please call us and we can help you determine the appropriate venting for your situation.
Product Information
Flame/heat adjustment for maximum comfort and efficiency
PHAZERAMIC™ burner system features a realistic flickering flame and glowing embers
Realistic, ceramic fibre, light-weight molded PHAZER® log set for a natural wood burning look
Exclusive built-in NIGHT LIGHT™ with on/off switch
Safety Screen Included
Equipped with our 100% SAFE GUARD™ gas control system and convenient electronic ignition
GDS26 converts easily from top vent to rear vent making installation possibilities endless… even in an existing fireplace