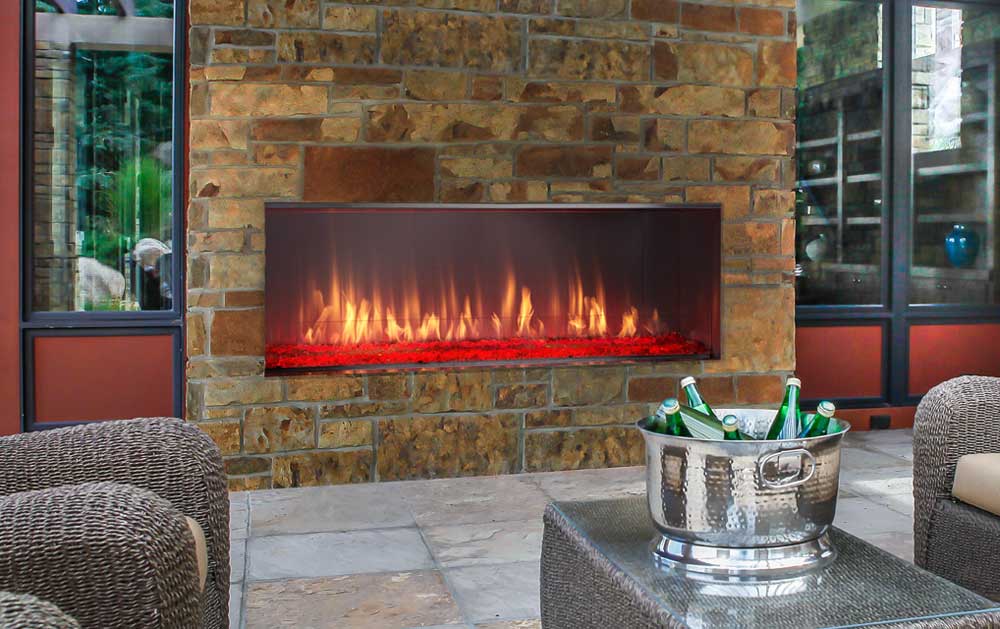 Outdoor Lifestyles Lanai: suggested list price starting at $3,859*
Free shipping in the contiguous 48 states Call us or you'll pay too much!
Outdoor Lifestyles Lanai Outdoor Gas Fireplace
Contemporary style combined with proven technologies bring the night alive as Outdoor Lifestyles' Lanai linear gas fireplace lights up your landscape with a colorful firebed of glowing flames.
Multicolored LED lights shine through the crystal crushed glass firebed with the fireplace on or off
Flames are reflected and magnified by the stainless steel interior
Stainless steel construction is rust-resistant
IntelliFire™ Ignition System with wall switch constantly monitors ignition and ensures safe functioning
Glass wind guard protects the flames
Optional clean face trim kit for finishing to fireplace opening
Drain pan is optional, adds 3 inches to framing height
51″ wide fireplace is a stunning focal point
Lanai Outdoor Fireplace Features and Options
Glass Media Options: Crystal, Cobalt Blue, Amber, Scarlet Red, Ebony Black
Multicolored LED Lighting Technology
Superior performance and extended efficiency. This technology provides high-contrast, brilliant lighting to accentuate the flames. Can be used as mood lighting, with or without the flames. Choose a hue or cycle through colors continuously.
Lanai Outdoor Fireplace Specifications
Lanai Outdoor Gas Fireplace – ODLANAIG-51
| | |
| --- | --- |
| Appliance Width: | 57-1/4″ |
| Appliance Height: | 36-3/8″ |
| Appliance Depth1: | 17-5/8″ |
| Appliance Rear Width: | 57-1/4″ |
| Framing Width: | 57-3/4″ |
| Framing Height: | 39-1/2″ |
| Framing Depth2: | 17-5/8″ |
| Framing Front Width: | 57-3/4″ |
| Framing Back Width: | 57-3/4″ |
| BTU/hr Input: | 55,000 |
| Viewing Area: | 51″ x 18″ |
1 Appliance Depth includes entire unit including depth of firebox and extension onto hearth.
2 Framing depth will vary if you are installing the lower profile power vent (PVLP-SLP) with a minimum vent configuration. 12-1/2" is needed from the back of the appliance to the outside of the exterior wall. Refer to manual for details.
Heat output will vary depending on the type of fuel used. The flame and ember appearance may vary based on the type of fuel burned and the venting configuration used. Actual product appearance, including flame may differ from image shown. Refer to the owner's manual for complete clearance requirements and specifications. Product specifications and pricing subject to change without notice. For testing and listing information please refer to the owner's/installation manual.
*For select products: Heating capacity to be used as a guide only: may vary based on climate, home efficiency, location of the heater, and air movement in the room.
Lanai Outdoor Fireplace Manual and Literature